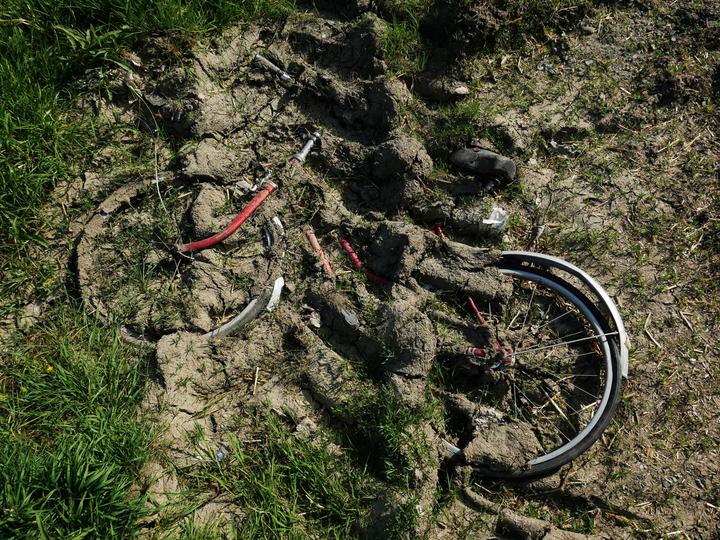 Sometimes you just know it. You can feel you are somewhere special. Where time stopped, or perhaps repeats itself in an incomprehensible loop, or simply does not make sense whatsoever. Somewhere where two realities overlap one another. Where things that are — or really should be — separate become united, cast into one in some absurd fashion. Somewhere, where miracles are everyday reality and are not only no longer surprising to anyone… but, maybe, become mundane to such an extend that no one really sees them anymore.
Places like that do exist.
This double exposure scene — I could not help myself to name it otherwise — is quite peculiar. Let us think for a moment and speculate about what happened there.
Someone had to toss a bicycle on the ground and leave it in the middle of a local farm area, on the road between yard and an obviously-few-times-a-year-mown lawn. And, probably, forgot about it. Then someone had to drive over it with a tractor. We can ponder the idea he, or she, did not see it — probably driving drunk or something like that. Or, drove over it on purpose. And it happened more than once perhaps. Be that as it may, there you have some individual. And then, both those people — if two in the first place — and in fact all others, left the bicycle there in the open on the farm road. For so long the mud dried out — at least once.
The probability of this happening all by itself is just ridiculous. It's not that far from a miracle, in a certain absurd way. The alternative — that this was intentional — means the people living there do really have a style…
I'll go with the first option — that of a mundane, everyday miracle. Because it happened to me. I walked right over this scene and did not see it. It had to be my wife to send me back to look at it. How could I not notice something like that?
Well, maybe the spirit of the place descended upon me for a while — and those mundane miracles could I not notice anymore…
---
Někdy to prostě poznáte. Cítíte, že jste na zvláštním místě. Někde, kde se čas zastavil, nebo se snad v nepochopitelných smyčkách opakuje, nebo jednoduše nemá vůbec žádný smysl. Někde, kde přes sebe prolínají dvě reality. Kde se věci, které jsou — či by doopravdy měly být — oddělené, spojují a zvláštně absurdním způsobem splývají v jednu. Někde, kde se zázraky staly tak každodenní skutečností, že už nikoho nepřekvapí… nebo, možná, se stanou natolik všedními, že je už nikdo nevnímá.
Taková místa existují.
Tenhle obrázek dvojité expozice — nemohl jsem si pomoci k jinému názvu — je opravdu zvláštní. Zkusme se na chvilku zamyslet, co se tady asi událo.
Někdo musel pohodit kolo na zem a nechat jej tam, uprostřed prostranství místní farmy, na cestě mezi dvorem a zjevně několikrát ročně sekaným pažitem. A pravděpodobně na něj zapomněl. Poté jej někdo musel přejet traktorem. Lze zvážit myšlenku, že to kolo neviděl, či neviděla — možná při řízení pod vlivem alkoholu či něčem podobném. Nebo jej přejel záměrně. A asi k tomu došlo více než jednou. Ať tak nebo tak, tohle už si žádá nějaký charakter. A pak tam oba — pokud oba — a vlastně i všichni ostatní nechali to kolo na té cestě ležet. Tak dlouho, až bláto uschlo — alespoň jednou.
Šance, že se tohle stane nějak samo od sebe, je prostě směšná. V jistém absurdním smyslu tu nejsme až tak daleko od zázraku. Alternativní možnost — že to byl záměr — znamená, že lidé zde žijící jsou skutečný formát…
Za sebe volím tu první možnost — všední, každodenní zázrak. Protože se to stalo i mně. Přestože jsem šel těsně kolem, tuhle scénu jsem neviděl. Byla to až moje žena, kdo mě poslal zpět, abych se podíval. Jak jsem si mohl nevšimnout něčeho takového?
Nu, možná na mne na okamžik sestoupil duch toho místa — a ty všední zázraky jsem vidět prostě nemohl…
— snílek
(Starý Smolivec, 8.5.2018)