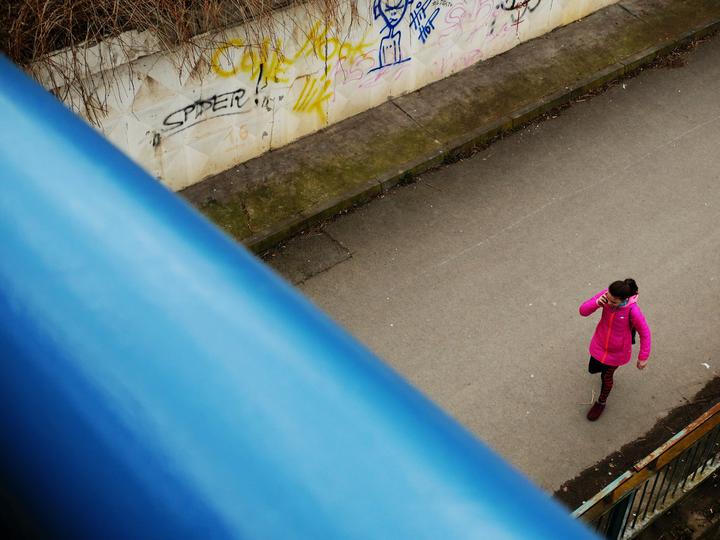 This photo is wrong. I decided to take it wrong. Deliberately. But the immediate circumstance pushed my wrong-by-design idea over it's limit to attain an even more wrong result. There, pure chance was at work, I guess. And I really do not know, whether this deeper wrongness is still right — or not. Whether I like it — or not. Yet, in the end, it seems to work somehow — for me at least. So there it is. It happened like this.
She crossed my path. On a gloomy day of early spring, she was an obvious photographic target among all those grey and black coats. I did not want to stalk her too much even though I did not manage to take the shot. So we went separate ways.
After a while — maybe ten, fifteen minutes — when on a footbridge across the river, I saw her down on the pavement, going towards me. Alone. With no other coats or jackets to get a proper semantic contrast, I decided to contrast her... with the blue pipe railing of the bridge.
So I placed the blue pipe over nearly half the frame — just to get the "proper" contrast — and waited for her to move to the middle of the remaining frame-space.
But then she suddenly diverged from her previous path and gravitated towards the railing on her left side. Like being pulled there by a magnet. The intended positioning was not happening. First a blue pipe over half of the photograph and then even the balanced wrongness of the composition was ruined.
So there she was. In the last possible wrong spot to take the photograph. There was no other option, no other chance. So I took it. There in the wrong place. And she even turned out one-legged. Oh gosh!
---
Tohle je špatná fotka. Rozhodl jsem se ji špatně vyfotit. Záměrně. Jenže bezprostřední okolnost posunula moji ideu špatné fotky za její limit, aby vznikl výsledek ještě horší. To už byla náhoda, myslím. A tak vlastně nevím, jestli tahle hlubší špatnost je ještě správná — nebo ne. Jestli se mi to líbí — nebo ne. Nakonec se zdá, že to nějak funguje — alespoň u mě. Tak tady je. Stalo se to takhle.
Zkřížila mi cestu. V zamračeném dni začínajícího jara byla mezi všemi těmi šedivými a černými kabáty jasným fotografickým cílem. Přestože se mi nepodařilo ji vyfotit, nechtěl jsem jí příliš pronásledovat. A tak jsme šli každý svou cestou.
Po chvíli — asi za deset, patnáct minut, — když jsem byl na lávce přes řeku, jsem ji spatřil dole na chodníku, jak jde směrem ke mně. Sama. Protože tu nebyly žádné další kabáty nebo bundy pro správný sémantický kontrast, rozhodl jsem se ji zkontrastovat... proti modré trubce mostního zábradlí.
Tak jsem přes téměř půl záběru umístil modrou trubku — jen proto, abych získal "správný" kontrast — a čekal na ni, až bude uprostřed zbylého prostoru záběru.
Jenže ona najednou změnila svůj původní směr a začala gravitovat k zábradlí po její levé straně. Jako by tam byla tažena magnetem. Očekávané pozicování se tedy nekoná. Nejdřív modrá trubka přes polovinu fotografie a nyní dokonce i tahle vyvážená chybnost kompozice — zničena.
Byla tam. Na posledním možném špatném místě k tomu, aby vůbec šla udělat fotka. Nebyla jiná možnost, žádná další šance. Tak jsem ji vyfotil. Tam na tom špatném místě. A nakonec vyšla ještě jednonohá. No jéje!
— snílek
(Plzeň, 23.3.2018)